Legrand On-Premise CRM integrates with popular desktop and cloud accounting systems, with e-marketing providers Mailchimp and Constant Contact, and includes an Outlook Add-In which enables you to perform CRM actions in Outlook.
On-Premise Accounting Integrations
Legrand CRM integrates with a number of desktop and cloud accounting systems.  The detailed functionality of the integrations varies slightly depending on the accounting system.
Import customers and suppliers from your accounting system
Sync address changes between systems
Import product definitions and stock-on-hand information
Create new customers in accounting
Create sales quotes in Legrand CRM and convert winning quotes to accounting sales orders
Import sales summaries and Aged Receivables into Legrand CRM
View customer sales transactions in Legrand CRM
Supported Accounting Systems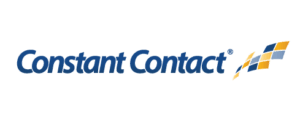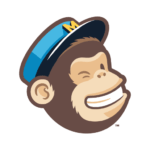 Constant Contact and MailChimp Integration
Legrand CRM integrates with both Constant Contact and MailChimp – global leaders in email marketing services.  You create and manage your targeted lists in Legrand CRM and then upload and sync your lists with your chosen email provider.  After the email has been sent, the response tracking is downloaded seamlessly to Legrand CRM and retained permanently.
Sync mailing lists to MailChimp or Constant Contact
Receive new subscribers from MailChimp or Constant Contact
Download campaign results from MailChimp or Constant Contact
Use the detailed campaign results to schedule follow-up actions in CRM
Legrand CRM Outlook Add-In
The Legrand CRM Outlook Add-in provides a live connection between your CRM database and inbox. Record new contacts, activities, sync calendars and transfer emails to your CRM database all from within your inbox. The email integration also enables you to send emails directly from your CRM database.
Legrand CRM stores emails as activity notes so your team can keep track of all email conversations and have greater visibility of communications.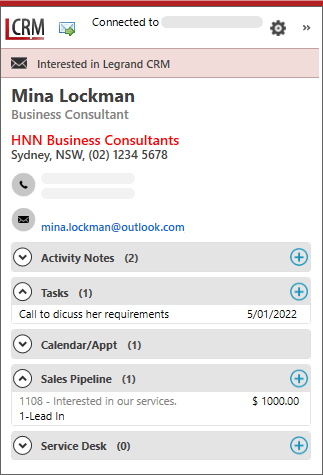 Sending emails from Legrand CRM
It's very easy to send emails directly from Legrand CRM.  Highly targeted emails produce the best results! Increase customer loyalty and satisfaction with personal messages that thank customers for specific milestones. 
For instance, use our accounting integration to retrieve all the customers that spent more than, say, $5,000 last month and send them a thank you message.  
Legrand CRM's e-template editor lets you create email merge templates that will source data directly from your company and contact records. Templates can be as short or as long as you need. Use templates for simple 'Thank You' emails or more complex queries for feedback and quotes.
Grow Your Business With Legrand CRM
15-Day Free Trial - No Credit Card Information Required.
Request Trial