Legrand On-Premise CRM v7
Using the extensive CRM experience accumulated since 2003 we've re-designed v7 from the ground up for Windows 10, retaining all the great features of the earlier versions and adding new functionality such as the drag & drop visual sales pipeline, configurable screens, user-defined lists, a more flexible Lead Inbox and enhanced integration with Outlook, accounting systems and e-marketing.
Manage all your customer data and communications with Legrand On-Premise CRM. No more excel spread-sheets, no more lost emails, no more misplaced leads. Your team will be in sync and nothign will fall through the cracks.
Legrand CRM is equally at ease managing relationships with companies as with individual consumers. Company and contact information are stored separately. This means that company-specific information is only stored once and is not replicated for every contact.
The visual sales pipeline provides a clear view of sales opportunities by stage. Easily filter by Account Manager or forecast status, and sort by value, next activity, days open, days in stage and estimated close date.
Multiple pipelines, each with their own distinct number of stages, are supported. This enables you to track multiple processes such as a Sales process, a Delivery or Implementation process, or a Design process.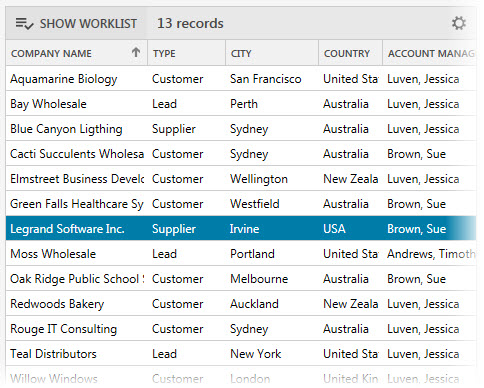 Every list in Legrand CRM is configurable by each individual user.  Only display those columns you really need and in the sequence you prefer.   Of course you can click on the column headers to sort Up or Down.
Multi-record operations can be performed on certain types of records. For instance, subject to User Permissions, you can select a bunch of contacts and perform a bulk edit, multi-delete, bulk task creation or bulk email on the selected contacts.
Legrand CRM excels in list management. Our flexible tagging system and custom fields provide great flexibility for segmenting your companies and contacts into multiple lists. 
Track and manage your team's activities in the calendar. Associate a colour with individual team members and activity types to quickly see who is scheduled to do what.
Easily filter the calendar by team member, configurable groups or activity type.
Using the Legrand Outlook Add-In, team members can sync their outlook calendar with their Legrand CRM calendar.