The key to growing your business is knowing your customers. Legrand CRM offers you an easy way to manage all of your accounts and their contacts. Easily toggle between a high-level view of the account to specific contacts from that organization. Drill down for specific contact information and account information. 
Use our easy-to-follow import process to add your existing accounts into the Cloud. Link your contacts with your accounting system to keep both your accounting and CRM systems in sync. 
Use the Snapshot activity as a base of operations to manage your daily tasks. Toggle between overdue, current and future tasks. Use priority and type to help you organize your work. 
Edit task details and mark as completed directly from your Snapshot view or launch directly to the associated company or contact with a single click.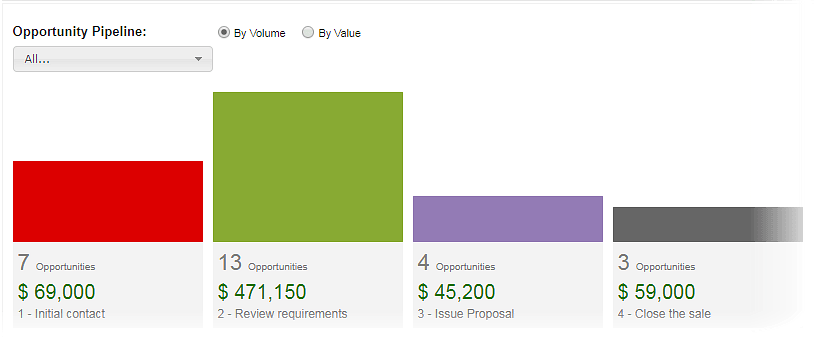 Building a sales pipeline is a best practice for achieving revenue goals. A sales pipeline may also be referred to as opportunities, leads, deals, or a sales funnel. Each opportunity in a sales pipeline progresses through defined stages in a sales process. In Legrand CRM, you can input your organization's sales process and associated stages to track the progress of the opportunity through its life cycle.
See your individual breakdown of opportunities directly from your Snapshot with the funnel widget. Toggle between managers or see the comprehensive list of opportunities for your business.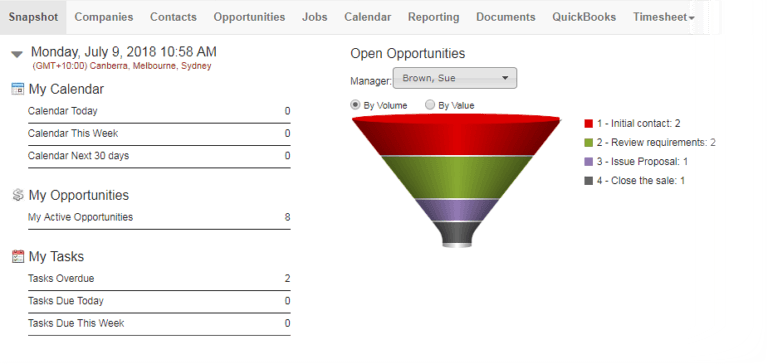 Use the Pro Plan Jobs module to manage projects – both fixed priced and hourly services – for your clients. You can also use the Jobs module to track internal projects across your teams. 
Save time by creating templates for recurring jobs or repeatable projects
Assign tasks to team members
Schedule work through a group calendar
Run reports on billable and un-billable time

Each job in Legrand CRM Cloud consists of a series of tasks. Job Templates allow you an efficient way to take common and repeatable jobs and to save the template for future use. Create as many templates as you need and help your team save time.
Track Jobs from your SnapShot
You can easily set due dates for upcoming tasks or schedule job-related appointments from within the Jobs module. Upcoming tasks will appear front-and-center in your SnapShot view when you log into Legrand CRM Cloud. See all the jobs that you are responsible for and quickly find out which task is due next and when it's due by. 
The SnapShot view will help make it easy for you and your team to prioritize your tasks on a day-to-day basis.